We've recently launched a 15 day free trial with our weight loss plans. We want to detail out a few basic questions around the same in this post.
What exactly is our 15-day trial? What do I get?
In this trial, you get everything in our weight loss plans, for 15 days,. This includes
1. A personal diet coach for 15 days. An experienced weight loss expert will work closely with you to understand your current diet, lifestyle, eating habits and restrictions. They will help you with any queries you may have.
2. Weekly personal diet charts: For two weeks our Expert will work with you and get your weekly diet charts done. These will be simple to follow and include impactful changes that will help you lose weight in the long term.
3. Your personal nutrition dashboard: This is a summary of your diets, insights from our experts and your basic metrics (weight, sleep, nutrients and more ) in one place.
4. myDaily health foods for complete nutrition: myDaily health foods are FSSAI approved and are created to ensure complete nutrition while you are losing weight. Our expert decides the amount of myDaily health foods you need to consume and we will deliver them to you.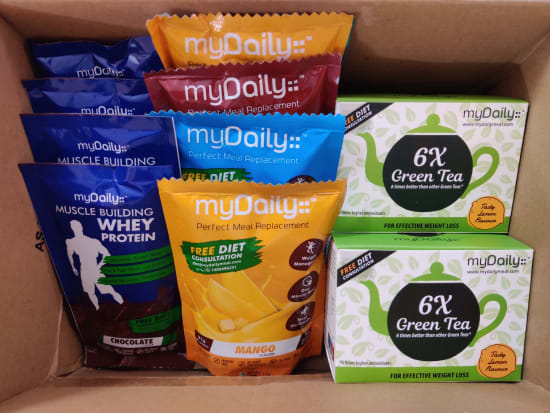 What can you expect post the trial?
Post interactions with our expert, following our diet plans and integrating myDaily foods in the diet, one can expect :
1. Improvement in digestion, overall energy levels and sleep quality
2. Improvement in overall condition. ( hormonal balance for hypothyroid, pcod )
3. Noticeable improvement in weight loss or inch loss
Why are we starting this trial program?
myDaily has one simple aim - to make weight loss easy and effortless. We thought what are the inhibitions of people when they're trying to reduce weight.
1. Too much effort / very difficult diet to follow: We start with simple, yet impactful changes - measuring every week.
2. Get the right mix of knowledge and personalized care: Our experts spend a lot of time with you to understand your needs and constraints. This helps them to solve specifically for you.
3. Complete nutrition with our Health, scientific foods: Our myDaily foods are designed for weight loss. And every food is ready to consume in under 1 minute.
With a 15 day trial, we help users get to try us and see the changes themselves. This gives them freedom and flexibility to start their weight loss journey.
Also, we are so confident in our approach to weight loss, that we are happy to offer everything in our weight loss plan for free for the first 15 days. You will never get someone as honest and as straightforward as us, we promise you that :)
Excited? Give it a try today! You can purchase the trial at our shop or just get in touch with us
~ Team myDaily