Is there a relation between obesity and pregnancy?
There is a clear relation between obesity and pregnancy. The hormonal balance in women is disrupted due to being overweight. Hormonal balance regulates the menstrual cycle. Therefore, imbalance could lead to reduced fertility in obese women.
Research shows that the chance of achieving a pregnancy within 12 months is reduced by 4% with each unit of BMI above 29. Many women who carry excess weight still ovulate, but the quality of eggs they produce is reduced.
How does obesity affect my fertility?
Excess weight is linked to insulin resistance. Insulin resistance means your body can't respond properly to the insulin it makes. This sends up your blood sugar levels. The condition of being insulin resistant can lead to anovulation, in which your body does not produce eggs properly.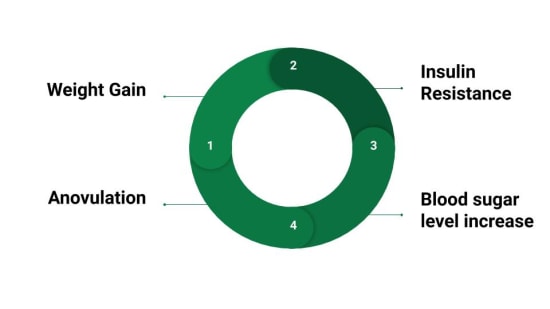 Excess weight is also linked to decreased levels of sex hormone-binding globulin (SHBG). It's a protein that is involved in the regulation of the sex-hormones androgen and oestrogen. This increases the risk of irregular menstrual cycles. This could lead to reduced fertility.
Having a high BMI can harm your fertility by inhibiting normal ovulation. Even in women who regularly ovulate, the higher the BMI, the longer it appears to take to become pregnant.
Whether you're using natural means or by reproductive technologies such as in vitro fertilization (IVF), obesity makes it more challenging to become pregnant . It also increases your risk for a miscarriage. This may be caused by the hormonal issues noted above or because of your body producing poor quality eggs.
How can I work on my diet to improve fertility?
While the facts about obesity and fertility can seem daunting, there is some good news too. You can improve your chances of success by losing weight. As you lose weight, the hormonal imbalances and other effects of obesity begin to decrease.
You can get started on a healthy path by incorporating basic lifestyle changes such as regular exercise, reduced meal sizes and healthier food choices.
Protein is the single most important nutrient for healthy weight loss and a better looking body. A high protein intake improves metabolism, reduces appetite and changes weight-regulating hormones.


How about you take a free diet consultation from one of our pre-pregnancy expert? We can help you with simple, and effective diet changes that can help you lose weight