What is PCOD
PCOD ( Polycystic Ovarian Disease), also referred to as PCOS (Polycystic Ovarian Syndrome) by many, is a hormonal disorder that occurs in females generally due to the presence of significant amounts of androgens, which are male hormones.
When the body is insulin resistant, it isn't able to properly utilize the insulin produced to control the sugar level in the body. This causes the production of more insulin, which in turn causes the ovaries to produce androgens.
Symptoms
Irregular or no Menstrual periods or severe menstrual periods
Excessive and abnormal hair growth
Acne breakouts, pelvic ache
Obesity
Metabollic Disorder
Early diagnosis and treatment along with weight loss may reduce the risk of long-term complications such as type 2 diabetes and heart disease.
PCOD is a blend of hereditary as well as ecological factors. Threat elements consist of weight problems, irregular menstrual cycles.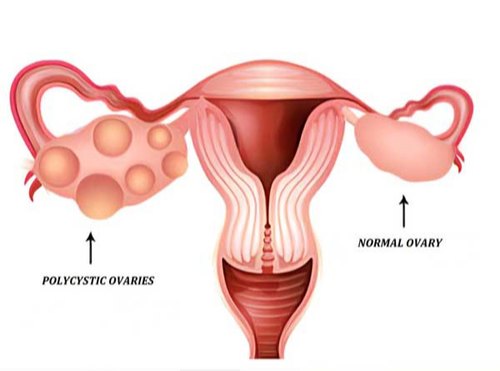 Causes
Excess Insulin:Insulin is the hormone produced in the pancreas that allows cells to use sugar, your body's primary energy supply. If your cells become resistant to the action of insulin, then your blood sugar levels can rise and your body might produce more insulin. Excess insulin might increase androgen production, causing difficulty with ovulation.
Excess androgen. The ovaries produce abnormally high levels of androgen, resulting in hirsutism and acne.
What does it affect?
PCOD affects a woman's ovaries, these ovaries also produce a small amount of male hormones called androgens.
Conditions:
Cysts in the ovaries
High levels of male hormones (Testosterone)
Insulin resistivity
Irregular or skipped periods
General diet & guidelines for PCOD
Treating PCOD demands lifestyle changes.
General guidelines
A calorie-restricted diet is recommended for all patients with PCOD who are overweight. Weight loss has been shown to have a positive effect on fertility and metabolic profile.
PCOD usually starts with lifestyle changes like diet,exercise and weight loss.
30 minutes of moderate-intensity exercise at least thrice a week help women with PCOD lose weight
All women with suspected PCOD should be screened for thyroid disease, hyperprolactinemia.
In addition to diet and exercise, women must focus on reducing stress. Stress is a great friend of PCOD and helps it flourish.
Diet Restrictions
According to a research paper published by the School of Medicine, Australia, (https://www.ncbi.nlm.nih.gov/pubmed/18097891), the food intake must adhere to certain restrictions. The intake of fat as a percentage of the entire food being consumed must not exceed 30%. Carbohydrates must be avoided as they cause additional weight gain and increase the craving for "junk" food.
Low Glycemic Index (GI) diet gets more carbohydrates from fruits,vegetables,and whole grains helps regulate the menstrual cycle.
Eating more whole-grain foods, fruits, vegetables, lean meats and low-fat or fat-free milk, cheese or yogurt can help lower your blood sugar, improve your body's use of insulin and normalize hormone levels.
Anti-inflammatory diet emphasizes fruits, vegetables, lean protein, nuts, seeds, and healthy fats,which helps improve both metabolic and reproductive aspects.
Eating a larger breakfast and smaller evening meal may help improve hormone levels and improve ovulation in women with PCOD.
Regular exercise may improve insulin resistance and ovulation, help burn body fat and reduce inflammatory markers.
Conclusion
While there is no cure for PCOD, choosing the right nutrition and regular Exercise can lead to happy and healthy living.
About myDaily & Disclaimer:
We at myDaily have a single goal of making weight loss easy and effortless. We've a 15-day weight loss trial plan, to get started. Do check it out here.
Reach out to our experts here and help us help you. We will devise a diet plan that will keep in mind all the dos and don'ts of PCOD as well as your body type, allergies, and your likings and suggest foods that will help catalyze the process
-Team myDaily