When we look at our face in the mirror, dullness, dark circles, lack of glow, signs of ageing, are not what we wish to see. We all wish for skin which is plump and youthful and forever glowing. Let us understand the skin science today!
Skin is the largest organ of the body. It is made up of water, proteins, fats and so many other things. Our skin goes through continues wear and tear which is not visible to our naked eyes.
Glow : Collagen and amino acids found in protein make the skin appear plump and youthful.
Repair : Every 27 days, the skin regenerates itself, so a optimum intake of protein is crucial for repair for damaged skin tissues.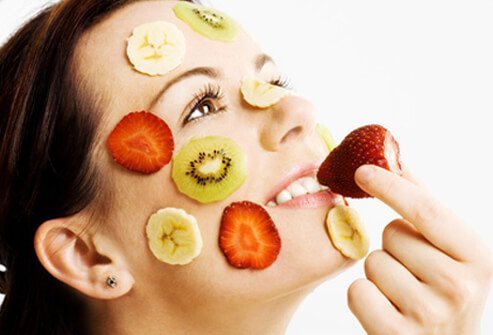 As we know, proteins are vital to any living organism. They are the important constituent of tissues and cells of the body. They perform innumerable functions in the body. They form a very important component of skin too.
Skin proteins are collagens (upto 80%), elastin and keratin. With today's environment and body's ageing process, the body's ability to produce collagen reduces.
The protein needed by the body has to be supplied in adequate amounts in the diet. Some foods contain a high amount of protein and can be classified as protein rich foods. Examples of such foods are animal foods like meat, fish and egg and plant foods like pulses, oil seeds and nuts. These foods contain over 20% protein and soyabean is the richest source containing over 40% of protein.
Cereals and millets are moderate source of protein. Defatted oil seed cakes are rich sources of protein. Eggs can be used as a source of protein whenever possible as well.
Now most Indians are protein deficient. As a result suffer from one or the other skin issues such as dull skin, acne, early agient etc. which can be easily managed with improving protein & mineral vitamin in ones diet.
myDaily has a great product for the same - myDaily Skin Glow Protien which is rich in protein & 24+ essential mineral vitamins for healthy hair, skin & nails. Do check it out.
Thanks,
Team myDaily